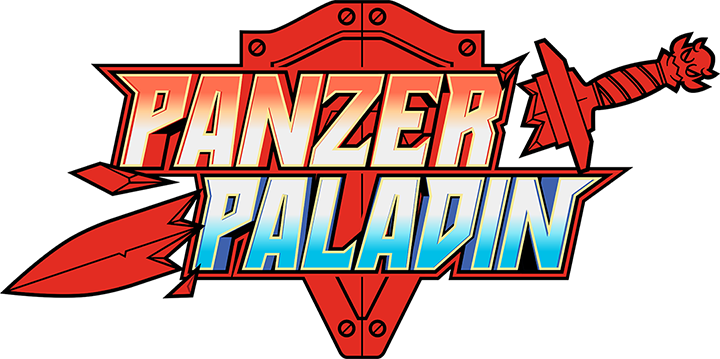 ---
Videos
Panzer Paladin Launch Trailer YouTube
Panzer Paladin Gameplay Trailer YouTube
Panzer Paladin Challenge Core Content Update YouTube
---
Images
---
Logo & Icon
---
Awards & Recognition
" National Academy of Video Game Trade Reviewers: Nominee for Outstanding Game, Original Family 2020" Panzer Paladin has been nominated for the above NAVGTR award in 2020.
" Annual Game Music Awards 2020: Winner of Best Score: Chiptune/Synthwave/Digital Fusion Award" Panzer Paladin won the above award for its double soundtrack (16bit style and classic 8bit) composed by Patrice Bourgeault. "Patrice Bourgeault's score to Panzer Paladin encapsulates the idea of digital fusion. Not only does the score combine classic chiptune melodies with modern instrumentation, there was also an 8bit rendition released for those who want to take a more nostalgic approach. The soundtrack is full of catchy melodies that perfectly complement the locales for which they are written." (Don Kotowski, vgmonline.net)
"Marooners' Rock Writers' Choice Award Winner" The Panzer Paladin demo won the Writers' Choice Award from Marooners' Rock at PAX East 2019.
---
---
Selected Articles
---
Additional Links
Panzer Paladin Facebook Page
facebook.com.
---
About Tribute Games Inc.
Boilerplate
Tribute Games is a studio developing and publishing video games with a focus on pixel art and classic game design. The Montreal-based studio has been steadily creating entertaining, challenging and retro-inspired games since 2011 using modern game development processes and technology. Their catalogue includes: Wizorb, Mercenary Kings, Curses 'N Chaos, Ninja Senki DX, Flinthook, and Panzer Paladin. They are also the developers of Teenage Mutant Ninja Turtles: Shredder's Revenge, published by Dotemu, in partnership with Nickelodeon. In 2020, Tribute Games announced the start of a publishing division to help smaller developers publish their game. Tribute Games' first published title is Steel Assault.
More information
More information on Tribute Games Inc., our logo & relevant media are available here.
---
---
presskit() by Rami Ismail (Vlambeer) - also thanks to these fine folks